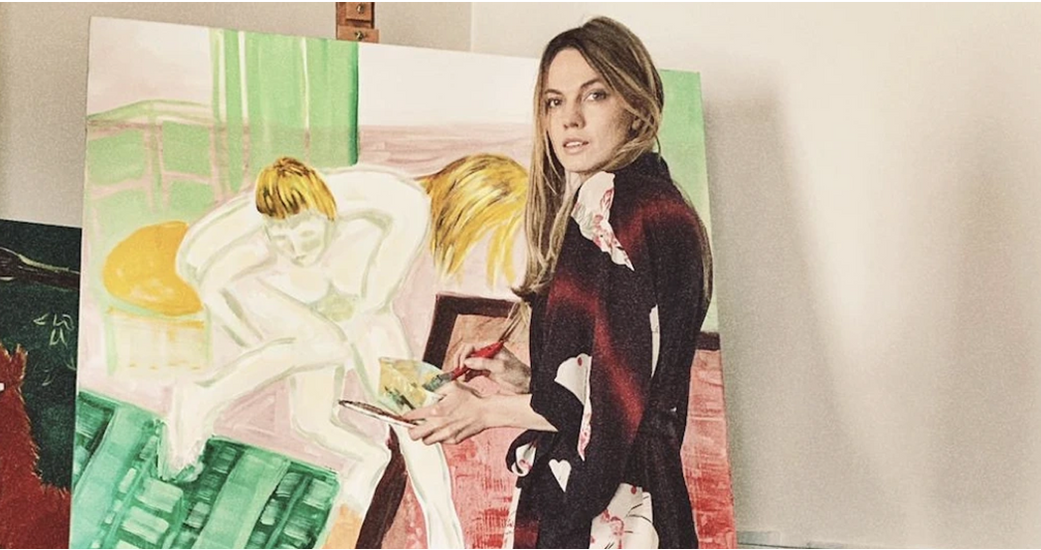 | By Hello Sargossa
Blending art and sustainability, meet Paulina / @poxy_coxy
Blending art and sustainability in both her lifestyle and fashion choices, Paulina joins the Sargossa Girls interview series & shares all about her passion for art history, slow fashion and empowering women.
Hi Paulina, thank you for having a chat with us! Many of our readers and followers could see a sneak peak of your amazing art on our social media, can you tell us a bit more about how your passion for painting started? It started in kindergarten, I remember that I loved to draw castles like the Taj Mahal and dreaming that I was a belly dancer.  
---
Which art history eras (or any other inspirations) influenced you the most when it comes to painting?
I love the natural world so I am particularly drawn to the soft lines and asymmetry of Art Nouveau, and especially how the style presents a woman's form. Posters of women from that era definitely had an impact on my style and my favourite artist is Gustav Klimt, whose art is a celebration of women's beauty.
---
Needless to say, we're also in love with your style. How would you describe your aesthetic and when did you start learning more about fashion/working in the fashion industry?
I would describe my style as pretty eclectic. I like to mix it up based on mood and environment. I really run the gamut from hippie-chic to classic conservative. I have been involved in the fashion industry in some way since I was 12. The opportunity to live and work in fashion meccas like Paris, Milan, Tokyo, and London were life changing and a big influence on my fashion sense.
You are also an advocate for slow fashion and conscious shopping, which is amazing! How does sustainability affectyour shopping habits?
It has been a journey for me. As a teenager I start to consume fast fashion without even thinking about the other end of the chain. I would go to sales and buy even more because I felt like I was saving money. A few years ago I started slowly changing my behavior by buying less and focusing on high quality products that I love and want to keep forever, or at least for a very long time. At the moment, I'm huge fan of vintage and I'm so proud whenever I wear my mom's sheepskin aviator coat, which is nearly as old as I am. Also, I have a big collection of vintage dresses. I love to mix them up with contemporary accessories.
---
What tips would you recommend for those first trying to learn more about ethical fashion?
My Favorite source for all kinds of different information is the World Economic Forum (WEF). One of my favorite January activities is going through the Forum's annual meeting agenda and picking the panels that I want to watch. I also follow the WEF on social media as they are very good at creating 1-minute videos filled with information. That's a good start.
Speaking of recommendations do you have any tips for women looking to dive into fashion and find their own style?
Confidence is everything! First and foremost you have to be comfortable in whatever you wear, both physically and emotionally. Don't be shy, play around, and remember, comfortable and stylish shoes are a foundation for every wardrobe. Sargossa certainly knows something about that ;)
---
Who is your favourite "hidden treasure" designer (local or international) who deserves way more recognition?
It is hard to name one particular designer but I would encourage everyone to dive into vintage clothing. It is like a treasure chest filled with all kinds of hidden gems. Also, my friend Milena Majewska launched an online affordable luxury vintage shop called The Vintage Riot – check them out on Instagram!
You have a collection of Sargossa stilettos at home – do you have a favourite pair in your closet?
I love my pair of Fairytale Black Suede stilettos. They are so beautiful and I can wear them all day and all night!
What do you usually look for when shopping for shoes in general? Are you a heel/flats person usually?
I love comfort as I walk a lot every day. Boots are my to go to, for a day filled with meetings.