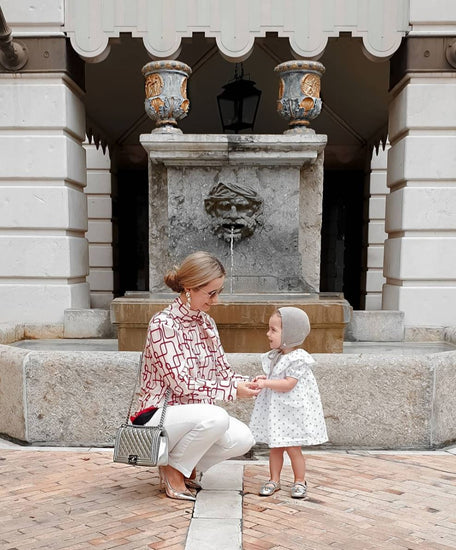 | By Nanna Liv
The woman behind #LuxMumma. Kerstin x Sargossa Interview
"A determined mamma juggling motherhood with a glass of rosé in one manicured hand, and designer handbag stuffed with nappies and half eaten snacks." - Kerstin's blog Lux Mumma talks about all things style and travels, showing the bright and very real side of motherhood.
Providing an honest, judgement-free platform for women all over the world, Kerstin inspires with her sense of style and authentic tone, creating a blog you can scroll through and get lost in for hours. To share more about her lifestyle, shopping habits and advice for fellow mums, we sat down with Kerstin for an interview.
Hi Kerstin, thank you for having a chat with us! We've met you a few years back on Instagram, and completely fell in love with your aesthetic. For our shoppers first coming across your blog and Instagram, how would you describe your style?
Thank you for your lovely words! I would describe my style as classic yet modern with a neutral colour palette. I prefer timeless and elegant pieces and don't tend to follow trends. I love to wear natural and organic fabrics which are breathable, such as organic cotton, cashmere and wool. 
How do you think becoming a parent changed your style and daily fashion routine?
Before I became a parent, I would wear delicate silks and embellished pieces. However now with an active toddler by my side, I need to invest in pieces which are comfortable and also look stylish, wash well, and can also keep up with both my work life and my role as a mother. 
Your absolutely gorgeous daughter is a pint-sized fashion icon already. Does she enjoy styling herself and does she ever want to dress you/declare some of your dresses and heels for herself? 
Yes, very much so! She loves to choose her outfit each morning and does a pretty good job with colour coordination - she also has an eye for accessories. Sometimes she will head to my wardrobe and source a pair of heels, usually selecting the most sparkly pair she can find to try on.  
You live in London, which is such an amazing place for emerging fashion. Who is your favourite designer at the moment who you think definitely deserves more attention?
London is a hub when it comes to emerging designers and fashion. My favourite English designers at the moment are Stella McCartney, as her pieces are very classic, wearable - made for the everyday woman, and Anya Hindmarch has fantastic handbags which are incredibly practical and so beautifully designed. Zimmerman deserves more attention here in Europe, as their floaty dresses and resort wear are incredibly feminine and a dream to wear.
You are also the author of Lux Mumma, a platform that offers an honest, non-judgmental space for parents. On this blog, besides fashion, you mention travelling and your favourite hotels on your blog. What are the top 3 places on your bucketlist? Any tips for long travels and plane journeys for fellow mums?
There are three places which are still on my bucket list, Seychelles, Lake Como and South Africa. We love to travel and our longest flights as a family have been from London to Sydney, Australia. My tip for family travel is to try and book an evening flight to coincide with sleep schedules, and pack plenty of toys, books and snacks - distraction is key when flying long haul with kids.
You've chosen the Spider and Inspire heels for this autumn season. What drew you to picking these two pairs?
I love the versatility of the Spider as it can be worn with trousers, jeans or a mid-length dress with tights. The heel height is ideal, and suede is perfect for autumn. Inspire is gorgeous for evening events and I choose the black as this colour goes with just about everything in my wardrobe. 
Besides these two pairs, you've been familiar with Sargossa before as well. What is your favourite part about our heels and what do you usually look for when going for heel shopping?
I love how incredibly comfortable Sargossa heels are, as the heel is just the right length and the cushioning makes such a difference. I can comfortably wear my Sargossa heels around London the entire day from meetings to PR events, without any issues.
And last, but certainly not least, do you have any style tips for fellow mums and women who recently became parents?
Remain true to your sense of style, however do make adjustments where necessary. There are so many fabulous fashion forward maternity and breastfeeding friendly collections out now - which means mums do not need to sacrifice style. Look for pieces which provide the ultimate comfort for everyday and allow you to transition into your different activities and roles effortlessly. 
Shop Kerstin's Favourites